Priyanka Chopra and Nick Jonas, who tied the knot over the weekend at the Umaid Bhawan Palace, Jodhpur, have shared pictures of their pre-wedding events.
The couple kicked off the three-day of celebrations with a mehendi party on Friday, followed by the sangeet that evening. They exchanged vows in a Christian ceremony on Saturday, with Nick's pastor father, Paul Kevin Jonas Sr officiating. A Hindu wedding ceremony for Priyanka and Nick was also scheduled to take place on Sunday.
On Sunday, Priyanka took to Instagram and shared a series of pictures and videos of their sangeet which looked like a fun-filled night straight out of a Bollywood movie.
The pictures showed Nick and Joe Jonas performing songs, Priyanka doing a dance with her mom and even Sophie Turner was up on stage doing an Indian dance.
The families of the bride and groom battled it out on the dance floor as they each put on musical numbers that shared their stories.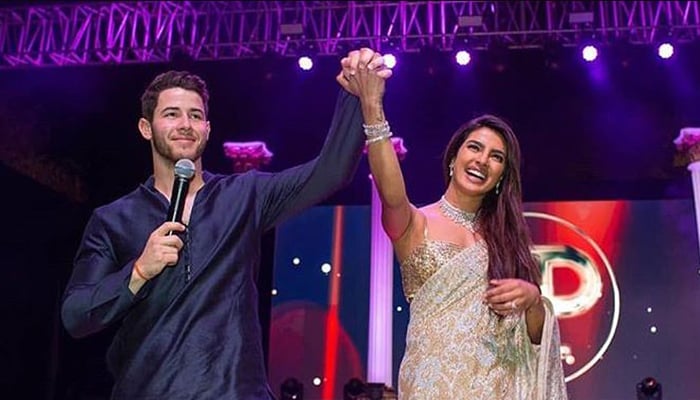 While sharing the pictures and videos, Priyanka wrote a beautiful caption that read, "It all began as a fierce song and dance competition between the families but ended, as always, as a huge celebration of love. Nick and I were looking forward to the Sangeet (musical evening), another pre-wedding ritual.. and to see what each side had put together. And what a performance it was. Each family telling our stories through song and dance, filled with lots of laughter and love. We were both filled with gratitude for the effort, the love and the laughter and will carry the memories of this special evening for the rest of our lives. It is an amazing start to a lifetime of togetherness for our families and friends.. #grateful."